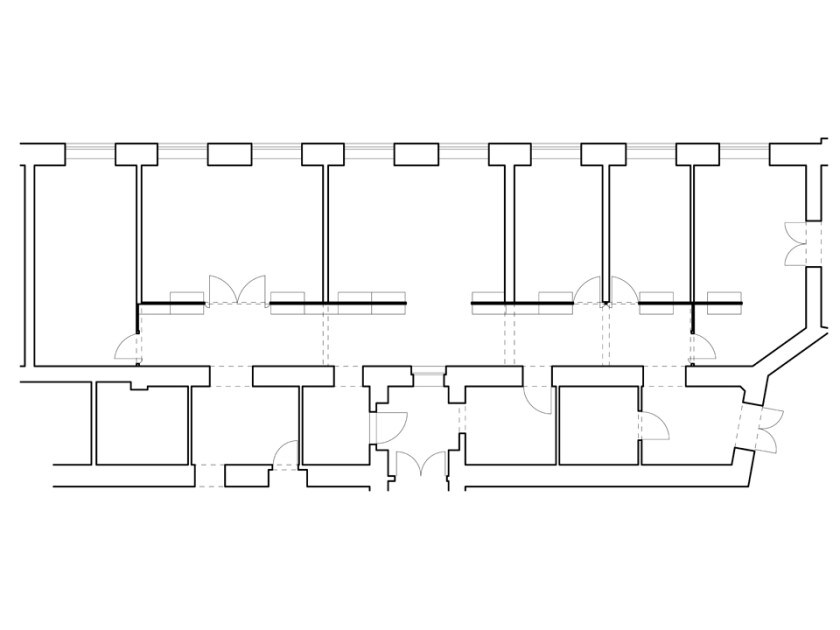 Danish Embassy
Due to the integration of a sally port the internal hallway had been interrupted, rendering the embassy office a maze.
In order to simplify this situation a new hallway, running parallel to the existing was introduced. This hallway cuts through the backside of the office rooms thus defining them by means of a double sided, 18 m long shelf.
Glazing above & below the shelf complement the acoustic separation of hallway and offices. The rack was made using a typical store construction system. The Backboard, the doors and the shelves have beech wood veneer.
The former hallway is used for secondary rooms. The old parquet as well as the windows and the doors were renovated, a new kitchen was added.
The 300 m2 office was renovated in two phases within four month with all security measures in full operation.
Location Führichgasse 6, 1010 Vienna
Client Danish Embassy
Planning Finn Erschen, Jens Borsholt
Constr. Period 2008 - 2012
Area 300 m2
Building Cost 200.000 €