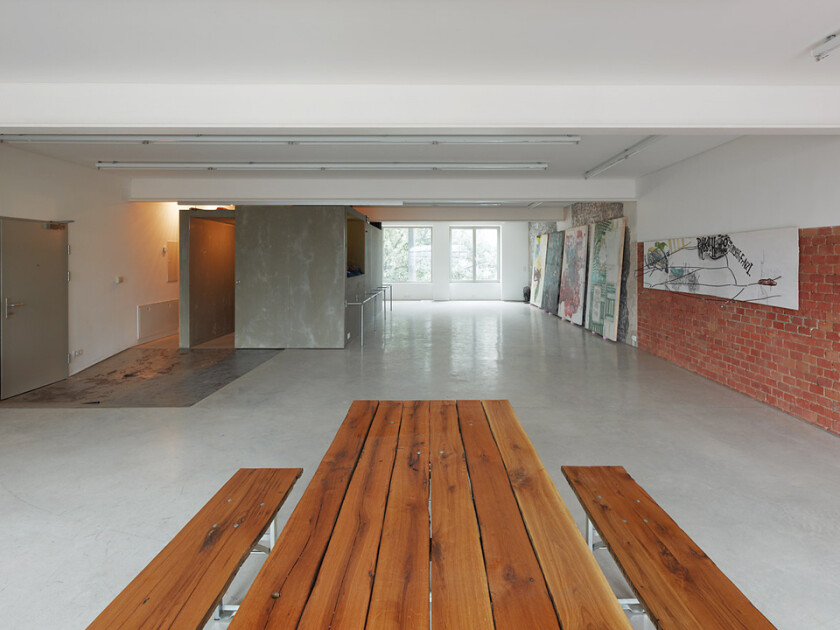 Absberggasse
The third floor of one wing of a former industrial bakery has been converted into three separate loft spaces. The artist Johannes Heuer occupies the first, the second one serves as artist-in residence accommodation and is used on a three-month basis for the purpose of a scholarship and Finn Erschen uses the third loft space. The owner has a tiny office one storey below.
In order to preserve the original impression, each unit is fitted with a cement-chipboard clad cube that encloses a WC & shower, kitchen, storage and in two cases a resting niche.
New steel frame double glazed windows have been added to the inside of the old industrial glazing and some of the paint/plaster has been removed from the interior exposing the brickwork, which adds to the industrial appeal. The concrete floor has under floor heating.
Location Absberggasse 27, Wien Favoriten
Client Sandra Bär-Heuer & Johannes Heuer
Planning Finn Erschen Architekt
Staff Erika Senkowsky
Constr. Period March 2011 - Dezember 2011
Status Completed
Area 340 m2
Building Cost 410.000 €